Saint Josemaria was born on January 9, 1902. Here are four videos about his life and teachings.
For Saint Josemaria's birthday on January 9, we offer some excerpts from an article published by "Real Clear Religion" entitled "The Tweetable Saint."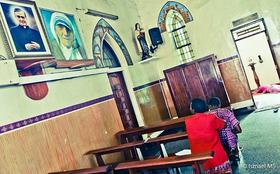 A new video of Saint Josemaria offers 44 brief clips from his oral preaching between 1972 and 1975 in Europe and Latin America. It can be downloaded or purchased from Beta films with English subtitles.
"Turn your eyes towards the Blessed Virgin and see how she practises the virtue of loyalty. When Elizabeth needs her, the Gospel says that she went cum festinatione, -- joyfully making haste. Learn from her!" (Furrow, 371)
By now, my little friend, you have no doubt learned to get along by yourself. —Joyfully keep Joseph and Mary company... and you will hear the traditions of the House of David:
You will hear of Elizabeth and Zachary, you will be moved by Joseph's pure love, and your heart will pound whenever there is mention of the Child who will be born in Bethlehem...
We walk in haste towards the mountains, to a town of the tribe of Judah (Luke 1:39).
We arrive. —It is the house where John...

"Either we learn to find our Lord in ordinary, everyday life, or else we shall never find Him."
SAINT JOSEMARÍA

, Founder of Opus Dei